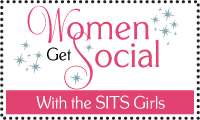 Today is the day I have been
patiently
waiting for! It's my SITS Day!
If you haven't visited
The SITS Girls blog
then you should! It is a community of women bloggers who support and help each other in all things blog related! Each weekday they feature a blogger and today is my day!
I am so overwhelmed by all of the love I have received today from all my fellow SITS girls! I have been doubting myself lately, but you ladies have definitely shown me that my posts are not in vain! Thank you!!!
Head over to the site (at the link above) for tutorials, paid blogging opportunities and ALL things blog related!
And thanks again for all of the support and
LOVE
!